A custom built system that winds and cuts cable to a specified length.
Details
Power supply: 230 V 800 W
Measuring accuracy: 0.0005 m
Min Length: 0.5 m
Max Length: 50 m
Max Cable Diameter: 14 mm
Speed: 2 m/s
Features:

Custom electric cable cutter
2-hand operation
Emergency switch
Changeable cable reel
Silent guide rolls with ball bearings
Dynamic speed (slow start, slow end)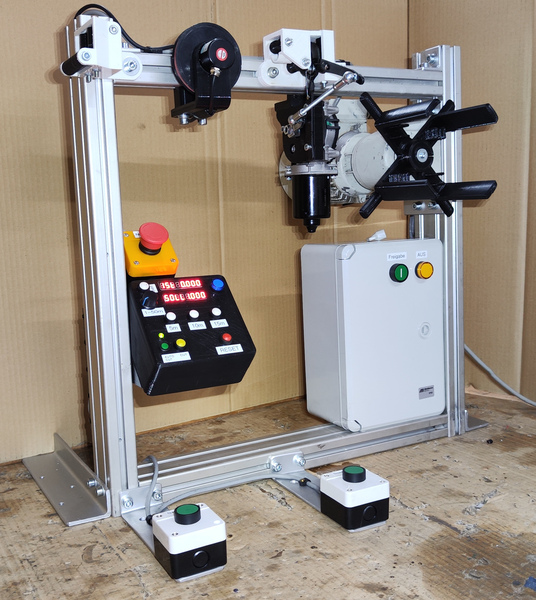 Finished machine
Components
Mechanical
Frame: 40x80 mm "Item" Aluminium profile
Metal components:

18x 6x13x5 mm ball bearings for rolls
Various nuts and bolts
Custom angle-iron parts and adapter plate

3d-printed Parts:

Cable reel
Guides, Rolls
Control box
Encoder mount
Cutter main body
Cable mounts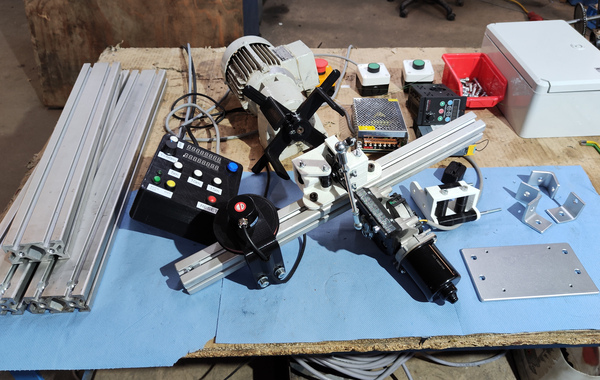 Disassembled machine
Electrical
Custom pcb with ESP-32 microcontroller
Rotary encoder - LPD3806-600BM
Three-phase motor - 0.3kW with 18:1 Gearbox
Variable frequency drive (VFD) - T13-750W-12-h
Switching power supply - 12 V, 8 A
Wiper motor
Safety relay - Siemens 3SK1111-1AB30
2x 7-Segment display MAX7219
Various push buttons and LED lights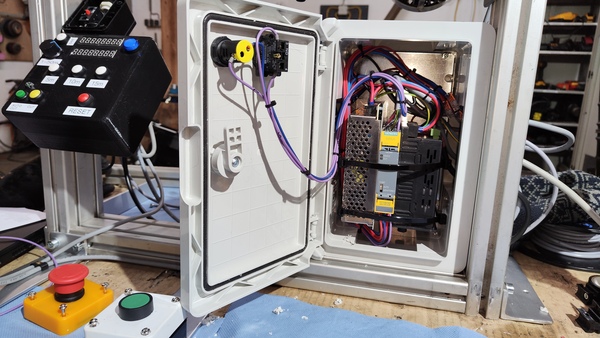 Cabinet with power supply, safety relay and VFD
Course of action
Planning
All electrical aspects were planned in the following document: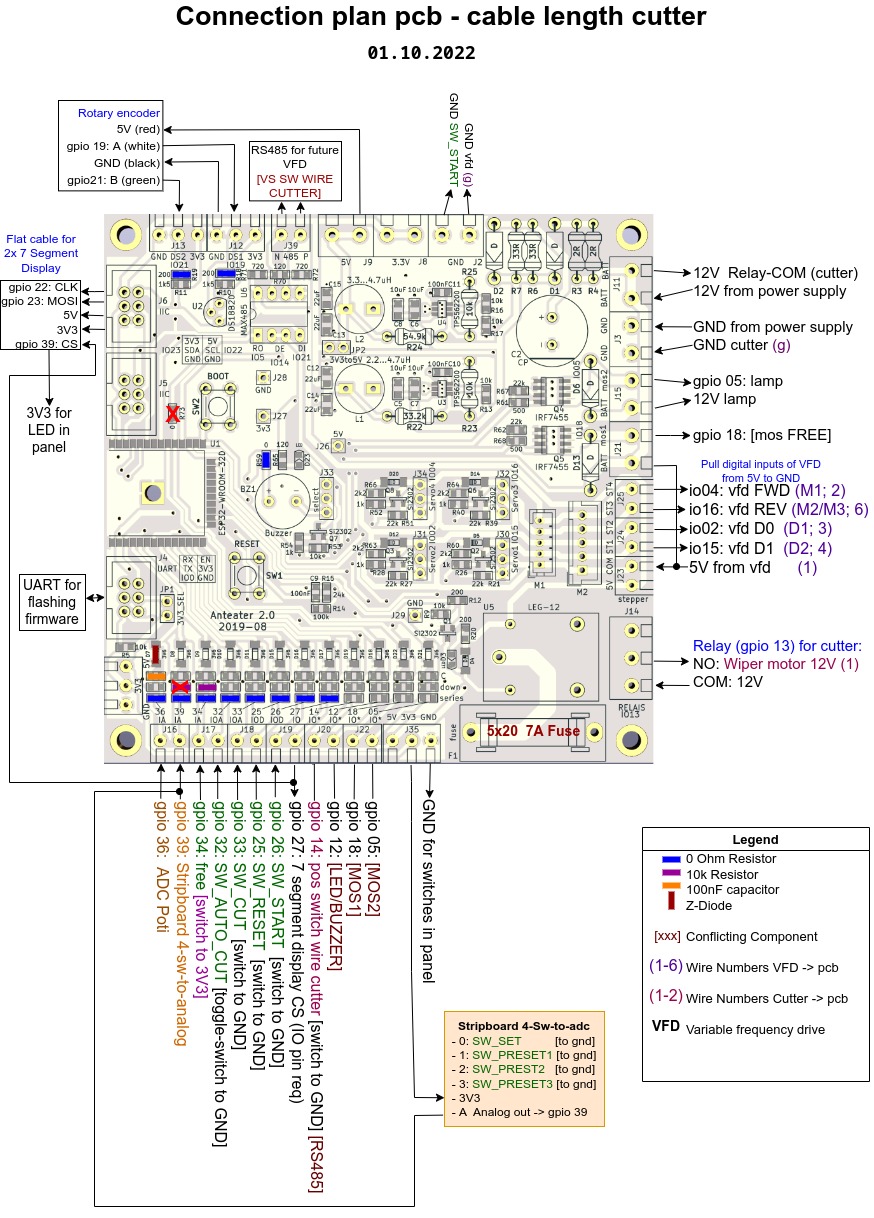 Complete Document
CAD
Most mechanical parts were 3d-printed. Those were designed in FreeCAD, sliced in Cura and printed using a CR-10 3d-printer.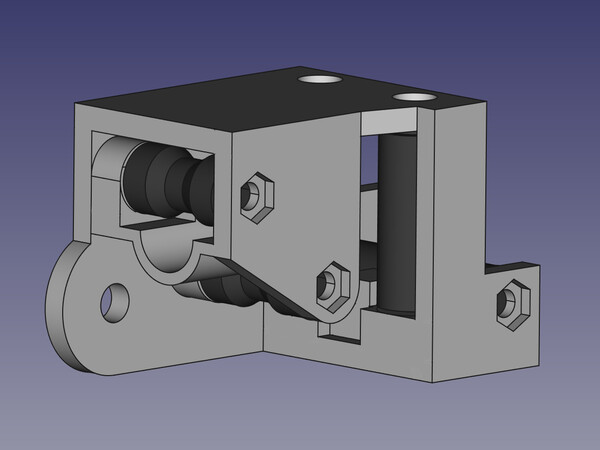 3d model of a cable guide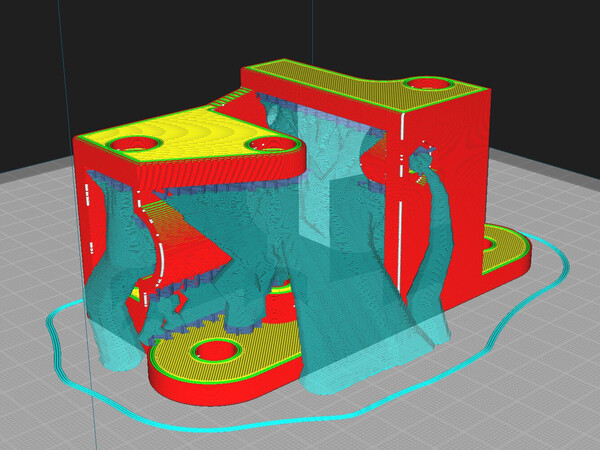 Sliced model for 3d-printing
Wiring
The wiring was straightforward using the beforehand created connection plan.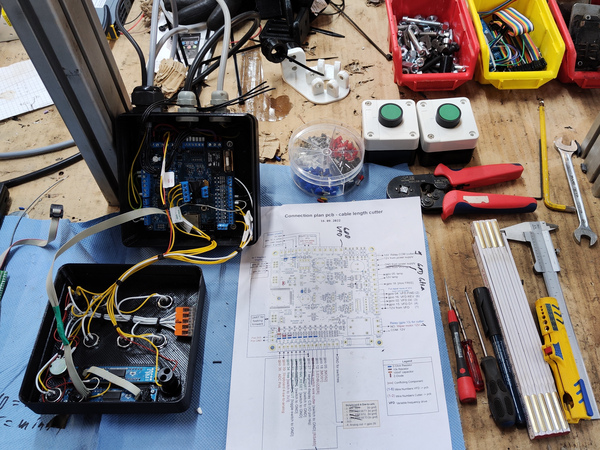 Wiring the control box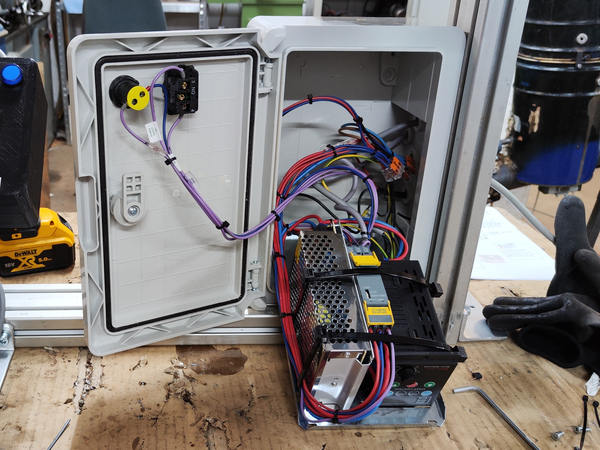 Wiring the cabinet
Programming
The firmware for this custom pcb was created using the following components:
C++ (Programming language)
ESP-IDF (Development framework)
diagrams.net (Flowcharts)
git (Version control)
The repository with the source code and all other documentes will be made public in near future.
Videos
Tests
First setup
2022.08.18
Cutter
2022.09.02
Without bearings
2022.09.17
Demonstration
Complete start
2022.09.30
Closeup
2022.09.30
Gallery